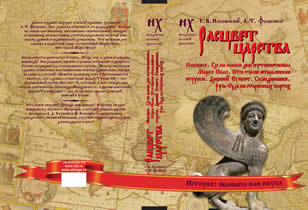 Publishing house AST, 2012.
CONTENTS
Part 1. WESTERN EUROPEAN ARCHEOLOGY, MEDIEVAL CARTOGRAPHY AND GEOGRAPHY CONFIRM OUR RECONSTRUCTION.
Chapter 1. REMAINED MEDIEVAL GEOGRAPHICAL MAPS OF THE WORLD DON'T CONTRADICT WITH OUR CONCEPT.
1. Our analysis of the maps, collected in the fundamental Atlas "Art of cartography".
2. Conclusions from medieval maps.
3. What evolution happened with geographical descriptions and maps of the XI-XVI century and in what form they reached us.
Chapter 2. WHAT IS REALLY DESCRIBED IN THE FAMOUS BOOK OF MARCO POLO.
1. Introduction. Who is Marco Polo?
2. Who wrote the book of Marco Polo?
3. On what language Marco Polo wrote or dictated his book?
4. If Marco Polo has ever been on the territory of modern China?
5. Geographical names of Marco Polo for two hundred years were considered his phantasy in Europe.
6. What are "islands" of Marco Polo.
7. Why modern commentators have to "improve" allegedly wrong names of Marco Polo.
8. In what direction one should go from Italy to India and China?
9. Why Marco Polo, speaking about India-Russia, tells about spices, silk, and in general about Eastern goods.
10. How appeared the name "India".
11. When and how some geographical names of Marco Polo were allegedly "found at the site".
12. Miniatures in the book of Marco Polo.
13. "Blacksmith Bridge" in medieval China.
14. Where in reality travelled Marco Polo.
15. After Marco Polo.
16. Marco Polo and the history of Alaska.
Chapter 3. DISAPPEARANCE OF THE RIDDLE OF ETRURIANS.
1. Powerful, legendary and allegedly mysterious Etrurians.
2. What is known about the Etrurians.
3. Controversy "for the ancientry" between Florence and Rome.
4. Two theories – of Eastern and Northern origin of the Etrurians.
5. How the Etrurians called themselves.
6. Probable origin of the words: Etrurians and Tuscany.
7. Et-russian Tarquinii = Tarhuns = Turkish Khans.
8. Our explanation of the controversy of Florence and Rome.
9. When the famous Etrurian Capitoline Wolf was made.
10. Et-rusians in the Bible.
11. How the holy book of Et-rusians was called? Of what faith were the Etrurians?
12. How the Et-russian signatures look like.
13. Slavonic archeology in the Western Europe.
Part 2. ANCIENT EGYPT AS A PART OF THE GREAT = "MONGOL" ATAMAN EMPIRE OF THE XIV-XVI CENTURIES.
Chapter 4. HISTORY AND CHRONOLOGY OF THE "ANCIENT" EGYPT. GENERAL REVIEW.
1. Our reconstruction.
2. Shortly about medieval Egypt.
3. A wrong Scaligerian basis and objective difficulties of the accepted today chronology of Egypt.
4. "Ancient" Egypt of pharaohs was a Christian country.
5. What instruments the "ancient" Egyptians used for construction.
6. Religious character of many monuments of "Ancient" Egypt.
7. How the Egyptian pharaohs were called?
8. Why it is considered today that before Champollion the Egyptian hieroglyphs were read in absolutely wrong way.
9. Who descended from who: Chinese from Egyptians or Egyptians from Chinese?
10. Destruction of signatures on the ancient monuments of Russia and Egypt.
11. Who, when and what for knocked down names, names of cities and countries on the monuments of "Ancient" Egypt?
12. In what state the Egyptian antiquities reached us.
13. Appearance of powerful Mamelukes in Egypt.
14. Language links between Russia and African Egypt in the Middle Ages.
15. Mess of the sounds "R" and "L" in the Egyptian texts.
16. "Ancient"- Egyptian texts were often written with only consonants.
17. A scheme of our reconstruction of the history of Egypt.
Chapter 5. THE TROJAN WAR OF THE XIII CENTURY AND PHARAOH RAMSES II. "ANCIENT" EGYPT OF THE THIRTEENTH-SIXTEENTH CENTURIES.
1. Heth folks or Goths-Cossacks. Russia-Horde in the Egyptian texts and on the Egyptian monuments.
2. Great city-fortress Kadesh in the "ancient"-Egyptian texts.
3. The land of Ruten Canaan.
4. The land of Naharin – Nogai river or Greece-Byzantium.
5. Kita - China, that is Skitia = Scythia.
6. Syria and Assyria, Ashur of the "ancient"-Egyptian signatures – this is Russia-Horde.
7. The great pharaoh Ramessu II = Ramses II = Rome-Jesus.
8. Ramses = Rome-Esus as the god of Osmans=Atamans.
9. The Trojan war of the XIII century or the war of 1453, which finished with the conquest of Tsar-Grad.
10. Three famous in the Scaligerian history peace treaties as reflections of the same Russian-Osman treaty of 1253 or 1453.
Chapter 6. "MONGOL" INVASION OF THE XIV CENTURY IN EGYPT – AS THE EPOCH OF HYKSOS IN "ANCIENT" EGYPT.
1. Who were "ancient" Hyksos.
2. Why nearly all Hyksos names = Cossacks tsars were knocked down on the monuments of "Ancient" Egypt.
3. Famous Great Sphinx on Gizekh field was built by Hyksos = Mamelukes.
4. Egyptologists are not sure in their translations of "ancient"-Egyptian names.
5. Egyptian tsars of the epoch of Hyksos.
6. Relation to Hyksos in Egypt. Who and when started to destroy memory about them.
Chapter 7. "ANCIENT" AFRICAN EGYPT AS A COMPONENT PART, THE MAIN NECROPOLIS AND A STORAGE OF CHRONICLES OF THE CHRISTIAN "MONGOL" EMPIRE OF THE XIV-XVI CENTURIES.
1. General review of the history of the 18-th "ancient"-Egyptian dynasty.
2. "Moon", that is Osman, dynasty of pharaohs – a "dynasty of half-moon".
3. Akhnaten I and Akhnaten IV.
4. Pyramids and buryings.
5. Huge burying complexes of "Ancient" Egypt – this is the main "Mongol" empire burial ground of the XIV-XVI centuries. Who was Tutankhamen?
6. Some huge constructions of the "antiquity" were made of concrete.
7. A great forgotten invention of medieval alchemistry – geopolimer concrete of Egyptian pyramids, churches and statues.
8. Concrete in "antique" Roman empire.
9. Mamelukes and monuments of "Ancient" Egypt.
10. Egyptian pyramids – these are Skythian burial mounds.
11. The capital of Egypt in the XVI century was called Babylonia. Osman half-moons with a star and Cossacks' Ataman boncuks under "Ancient" Egypt.
12. Artists of Napoleon, probably, were afraid to reproduce on their very accurate drawings a huge Orthodox cross on the throne of "ancient"-Egyptian Colossi of Memnon.
13. At the same time, the artists of Napoleon, drawing the "ancient"-Egyptian Colossi of Memnon, reproduced the placed here Christian plot of exaltation of the Cross.
14. "Ancient"-Egyptian Osiris – this is Jesus Christ.
15. "Ancient"-Egyptian goodness Isis and her son Horus – are, most likely, Virgin Mary and her son Jesus Christ.
16. Two famous boats of "Ancient"-Egyptian pharaoh Cheops (Khufu) were made of boards. So, they are of rather late origin, as iron or steel saws should have been used for their production.
17. Slavonic fretwork on the "Ancient"-Egyptian dresses.
Chapter 8. PHARAOH TUTMES III THE CONQUEROR – THIS IS OSMAN=ATAMAN MOHAMMED II THE CONQUEROR OF THE XV CENTURY.
1. Astronomical dating of the governance of Tutmes III by Dender Sodiacs agrees with the new chronology of Egypt.
2. A great conqueror of the fifteenth century pharaoh-sultan-ataman Tutmes III, also is Mohammed (Mahmut) II.
3. Capture of the city of Kadesh = Tsar-Grad by pharaoh-ataman Tutmes in 1453.
4. Russia-Horde and Osmania=Atamania in the fifteenth century as two parts of the Great Empire.
5. Ataman conquest of the Mediterranean, Minor Asia and Europe of the XV century, according to the "ancient"-Egyptian texts.
6. Egyptian obelisk, Column of Serpent, Gothic Column, knights statue of imperator Justinian in Istanbul. The name of Moscow.
7. Some parallels between the biographies of Alexander the Great and sultan Suleiman I the Great.
8. Where were placed the capitals of "Ancient" Egypt – Memphis and Thebes?
9. Conclusion.
Part 3. ANCIENT RUSSIA, GLOBAL HISTORY AND GEOGRAPHY IN THE MEDIEVAL SCANDINAVIAN GEOGRAPHICAL TREATISES.
Chapter 9. WHAT IN THE MIDDLE AGES MEANT KNOWN TO US TODAY GEOGRAPHICAL NAMES. THE OPINION OF SCANDINAVIANS.
1. How we composed a list of geographical identifications.
2. Austria.
3. Asia = the country of Aesir. The Azov sea.
4. Armenia.
5. Austrríki.
6. Africa. What was called Africa in the Middle Ages? Where this name was placed on the map, if many European and Asian folks lived in "Africa"?
7. Blaland = Black Country. Babylon.
8. Great Svitiod (Saint) = Russia = Scythia.
9. Vina. Byzantium. Volga. Eastern Baltics.
10. Gardarike = Russia. Geon = Nile. Germany.
11. City = Grad. Goths = Gods. Scandinavians and other Europeans called Russia "The Country of Great God" and "The Country of Giants".
12. Greece = Greekland = the country of Georgia.
13. Dnieper. Don. Danube. Europe. Egypt. Western Dvina.
14. India.
15. Cairo = Babylon. Kama. The Caspian Sea. Kiev. Constantinople. Kenugard = Kiev. Kylfingaland. Ladoga.
16. Miklagardr in Thrace and the city of Rome in Scythia, in Russia.
17. Murom. Neva. Nepr. Neil. Novgorod = Holmgardar. Olkoga. Olonets.
18. Parfiya.
19. Perm and Byarm.
20. Polotsk. Ray. Rostov.
21. Russia.
22. Saxland. Minor Svitiod. Northern Dvina.
23. Serkland.
24. Syria.
25. Scythia.
26. Smolensk. Suzdal. Tanais. Tanakvisl. Tartarariki. Trakia = Turkia = Turkey. Finland. Chernigov.
27. Sweden = Minor Svitiod.
28. What meant the word "Scandinavia" in the Ancient Times.
Chapter 10. CONCLUSIONS. WHAT SCANDINAVIAN GEOGRAPHICAL TREATISES AND MAPS TOLD ABOUT ANCIENT RUSSIA.
1. How different nations called medieval Russia-Horde.
2. What medieval rivers were called with the word Don.
3. Sons of Biblical Japheth.
4. A glance at the "Norman theory" after study of the Scandinavian maps.
Appendix 1. WHAT HAPPENED WITH THE TREASURY OF THE GREAT = "MONGOL" EMPIRE AFTER THE SPLIT IN THE XVII CENTURY.
Appendix 2. HOW APPEARED RUSSIA-HORDE EMPIRE.
Appendix 3. EVIDENT ATTRIBUTES OF THE CONCRETE CONSTRUCTION IN ANCIENT EGYPT.
1. Incurved blocks in the laying of the temple of Sphinx.
2. Colored in red internal blocks of the Red pyramid. They were colored on not frozen, raw concrete.
LITERATURE.
ABOUT THE AUTHORS.