Books
The other colonization of America, according to maps and neochronology (pdf)
Based on research by Enric Guillot and the New Chronology of Fomenko and Nosovskij
© By Andreu Marfull Pujadas.
© Prologue by A.T.Fomenko.
April, 2023.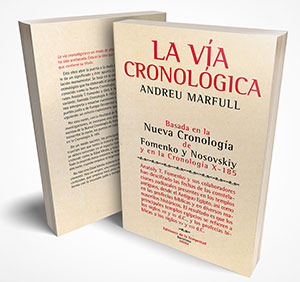 La vía cronológica: Basada en la Nueva Cronología de Fomenko y Nosovskiy, y en la Cronología X-185

Translated as: The chronological way: Based on the New Chronology of Fomenko and Nosovskiy, and on the X-185 timeline
Anatoly T. Fomenko and his collaborators have deciphered the dates of the zodiacal constellations present in ancient temples, from Ancient Egypt, as well as in Biblical prophecies and in various historical manuscripts. The result is that the main Egyptian temples refer to the 12th to 15th centuries AD, and the Biblical prophecies refer to the 15th and 16th centuries AD.
© Andreu Marfull Pujadas
© of this edition: Ediciones de La Tempestad SL, 2020
Barcelona, May 2020
ISBN 978 84 121768 1 0
Articles